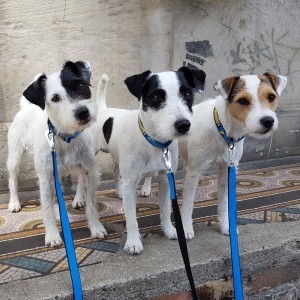 After a great night sleep in excellent beds we woke up in the middle of Berlin. Next to the well known KaDeWe. We started with taking the dogs for a walk before having breakfast in a nice café with excellent coffee. With caffeine in my body and yogurt in Fredrikas we took off to the streets. We visited flag stores like Nike, Adidas and ended up, as always in Germany, at a Jack Wolfskin store. The Jack Wolfskin lady was overwhelmed by our little terriers. She learned their names and took on the role as combined store manager and dog sitter very serious, since she also wanted to get their own dogs, and was looking for those foufou puppies for sale to get one one. She told us that the Berlin Zoo had baby Panda cubs the other day. With a private dog sitter in the store we had much time to try clothes on… this resulted in one bag each in our hands going out from there.
After strolling the streets of Berlin the terriers was tired and the two legged hungry. For lunch we decided to pay a visit to KaDeWe's top floor. KaDeWe has alot more than only lunch…  on all the other floors. Fredrika was very tempted to buy a flexible leash at KaDeWe for €179 in hand made leather but ended up with table tablets instead. 😉
After lunch we found coffee-togo at a place place that really did know how cup cake should look and taste like. A big nice coffee and a beautifull 6-pack of cupcakes we was ready
…to hit the road again and go more south..